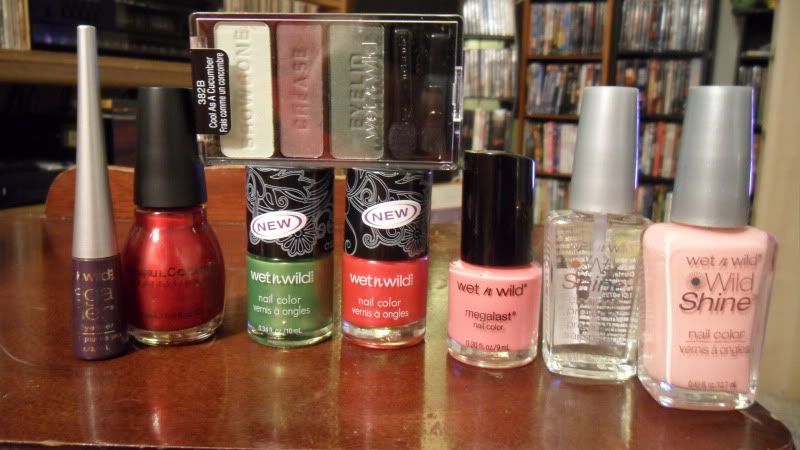 - First off I'm sorry I'm not doing everything in order of the pictures, just trying to do a list of everything in the pictures.
Little plastic jars - to try and make lip gloss at a later date.
Whatchamacallit candy bar.
WNW Eyeshadow Trio:

Cool As a Cucumber

WNW Craze Polish: Rustic, Shield, Goldmine, Jade, Lust.

WNW Mega Last Polish: Blackmail, Under Your Spell,

Candy-licious

WNW Wild Shine Polish: Tickled Pink, clear, Metallica, and Eggplant Frost (I think).

WNW Eyeliner in Plum

WNW Lip Shimmer in Maple.

Sinful polish in Sugar Sugar

Nail polish remover - I wanted one with the sponge inside.

Mood Polish in Purple

LA Girls sparkly purple polish

Garnier anti aging roller with a tint for dark circles.

Lastly NYC Sparkle Eye Dust in Smokey Topaz.
I blame Wet N Wild being half off at Walgreens.