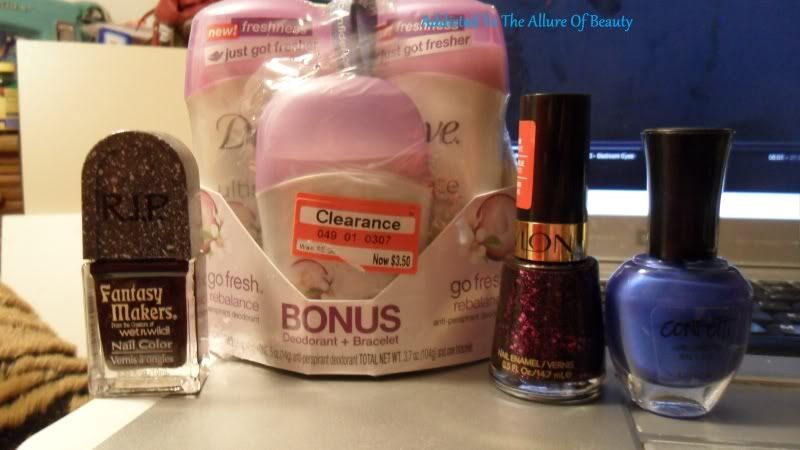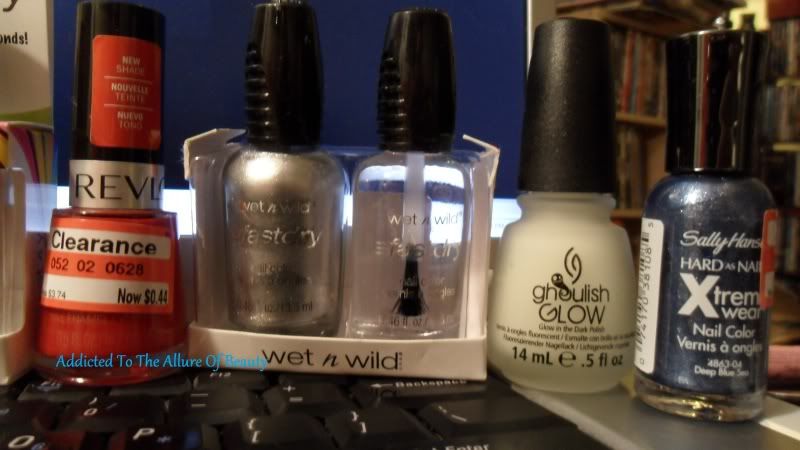 - The first photo has three LA Colors Eye Shadows from the Dollar Store.
The second photo has "Vamp Red" I believe it is for the Fantasy Makers nail polish. A clearanced set of Dove deorderant. Revlon's "Facets Of Fushia". And Confetti's "Blue Bombshell".
The third photo has three of the Wet N Wild sets, "SaGreena The Teenage Witch", "FuchsiaRama", and "Ebony Hates Chris". These for all a dollar, so that translates into 50 cents for the polish and 50 cents for the top coat, awesome.
The last photo has Revlon's "Fire Fox" (I got it for 44 cents, I already have it so it's for a friend.), The WNW set Silvivor. The Ghoulish Glow was a gift. And last is Sally Hansen Xtreme Wear in "Deep Blue Sea" that was clearanced at Target for 1.77, and it's limited edition, awesome.
I have more posts for the haul than this, so consider this part one.
I am going to try and do a no buy for awhile, with the exception of maybe some limited holiday polishes if I find them (i.e. WNW On The Prowl), and the buy one get one on Butter polishes at Ulta on the 20th, there's no way I'm passing that one up.