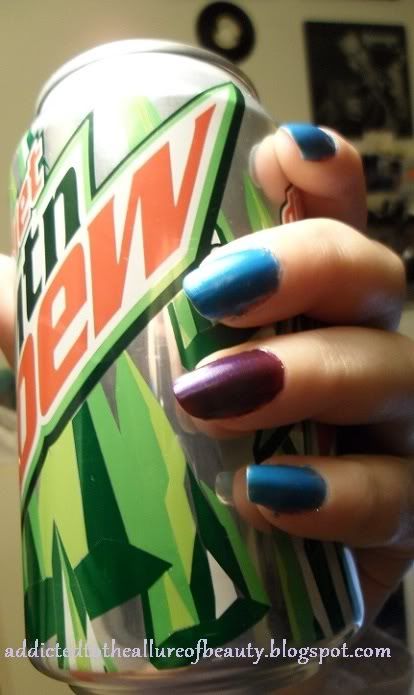 - I did a trade with a lovely girl named Stacy and she was kind enough to send me a Funky Fingers polish because I don't have any access to them here.
This is Funky Fingers Curacao, which is suppose to be a dupe for Color Club Wicked Sweet I think.
And I'm sorry if the photo is sideways I keep trying to fix it and it won't fix, bad photo bad.
- I'm also wearing a polish on my accent nail I got from
Sonia
it's a Jesse's Girl polish in Blue Moon (No, no Jesse's Girl people it should be Purple Moon.), it had a really weird finish when it dried, like plastic kind of, and it dried so fast I actually pulled polish off my nail by the time I got to the other half of my nail. But yes it dried with a weird finish and I thought "Oh, idk about this but it has all this pretty shimmer/glitter in the bottle I bet it'll pop when I do a top coat. But it still fell a little flat. But the other Jesse's Girl polishes I got to try weren't like that and I heart them.
Other bloggers doing the challenge:
| | | |
| --- | --- | --- |
| Alyssa | | |
| Amber | | |
| Andrea | Addicted to the Allure of Beauty | |
| Ashley | Follow the Yellow Polish Road | |
| Caitlin | | |
| Carly | | |
| Caroline | | |
| Jacki | | |
| Jamie | | |
| Nory | | |
| Rachel | | |
| Sarah | | |
| Shaina | | |
| Taylor | | |
| Thalie | | |