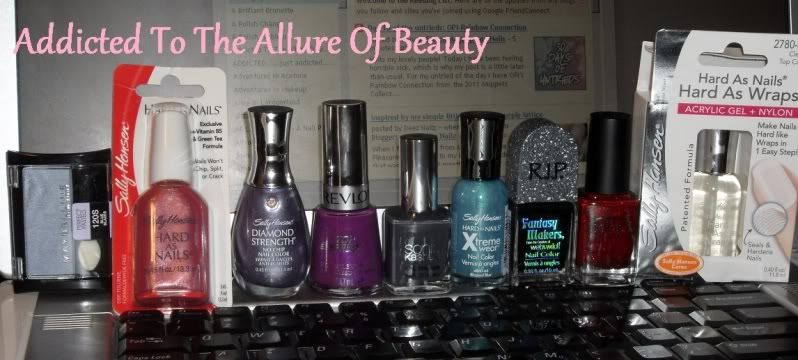 - I had a bunch of coupons to use at Target so off I went (as well as the dollar store.). I saved like 6 dollars. I know Oooo Ahhh right. Anyway. I got Maybelline eyeshadow in Blue Blazes. Sally Hansen "Pink Sapphire" I don't think I'd ever seen a Hard As Nails in that packaging before. Sally Hansen Diamond Strength in Lilac Chantilly (these are clearancing at Walgreens for 2.79 atm). Revlon Violet. Sonia Kashuk (My first) in Blank Slate. Sally Hansen Xtreme Wear in Blizzard Blue. Fantasy Makers in Black Pearl (which I'm now thinking of POTC). Color Club Santa's Cinnamon. Sally Hansen Hard As Wraps, found this at the dollar store, I was thinking of using it as a base coat for awhile maybe it'll help my nails out and I can always use more base coat.
Buy three Finger Paints get a free wallet at Sally's atm. She had the Finger Paints on sale for 2.99 too, so everything in this picture was less than ten dollars. I'm using the wallet now. The polishes are Winter Sky, Be A Pal-ette, and Get Real-ism!
WnW Believe Me, It's Real (I finally decided to get some of these since Walgreens has the dollar off coupons in the holiday coupon book.), some of the Beauty Concept polishes I've been showing.
- Revlon Pedicure set (it was at the dollar store, yay good find.), Sally's baked shadow, and loose glitter. Eyeshadow palette from CVS too, I really like the colors in it, I hope they live up to their beauty.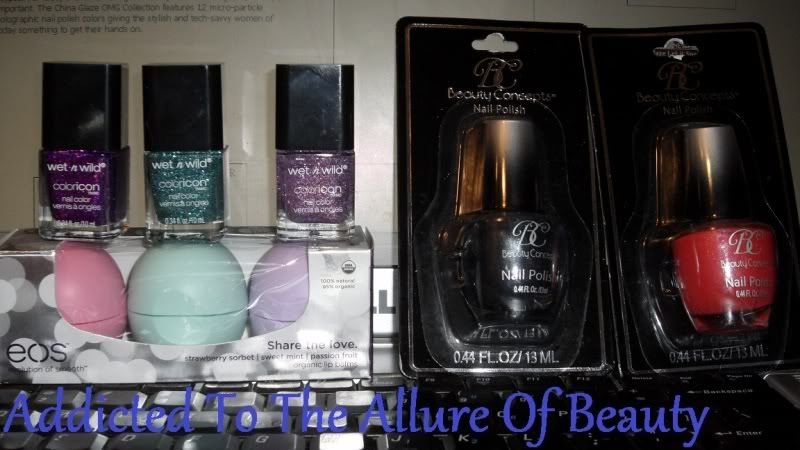 - EOS set because I love love love EOS. WnW Back Alley Deals, Cost Is No Issue, and It's All In The Cut. And two more Beauty Concepts, since I loved the way the pink went on and the bottles I got the last two I didn't have at the Dollar Store.